Right. I'm going to say it. I have good hair. And I have a lot of hair. My hair has always been what has gotten me the most compliments throughout my life. Be it the sheer length and mass of it, the deep brown shade, or the shine that it radiates through my addiction to conditioner and treatments.
But recently I fell victim to the catastrophic disease that is, "No-time-for-the-hairdresser-itus", and ladies, it was nearly fatal for my hair. I'm a 5ft10" adult and my hair used to touch my butt, and the split ends and dryness was driving me mental!
So, after asking about and finding a salon in Glasgow, I was happy to jump on the subway and have a visit to Maggie @ Gosh Glasgow in the West End.
Maggie knew exactly what she wanted to do with my Rapunzel locks right from the get-go - even if I didn't. I came in expecting that I'd love some sort of Camilla Cabello choppy, layered look, which Maggie instantly (and thankfully) steered me away from, and put me in the direction of long layers, keeping my length and reducing a lot of the bulk and straggly ends, in order to achieve Kate Middy style bounce and a look perfect for a princess.
So we did that. She was an ace at reducing the bulk of my hair, which after seeing it on the floor, was enough to make a few sets of extensions! She added what I newly found out were "invisible layers" that would give my hair a lot of movement and bounce.
She also is one of the few stylists in Glasgow that only uses natural and cruelty-free products in her sessions. Which I think is amazing and truly outstanding.
She uses mainly Maria Nila products, which you all know I'm a big fan of. What she did use in my hair was the conditioning treatment, which I've never used before, and my god it really adds so much nourishment into my really dry hair.
To put you in perspective, I have what I've always known to be as "Hispanic hair", which is a combination of oily hair at the roots and very dry at the bottom, incredibly thick and has one of the strongest waves in mankind that I spent the majority of my teenage years straightening before parties. Trust me when I say that Hispanic hair is a thing, and I won't believe it otherwise. It grows like a weed.
So somehow Maggie managed to turn me from Poodle Mia Thermopolis into "Princess Mia Thermopolis" (you all know what I mean - here's a gif if you don't)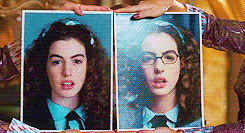 And by god, I love that woman for doing so. She is so uber talented that she knows exactly what her clients need right before they get into the chair, and she's just gotten herself a lifelong customer in me.
And I know you all want to see my after, so here you go!
I know she is a hair angel!
If you are looking for a new stylist then have a look at her social media
here
and
here
and if you are looking to book her then give her a call on 07934 311992 - it will be the best decision you'll make this year, trust me!